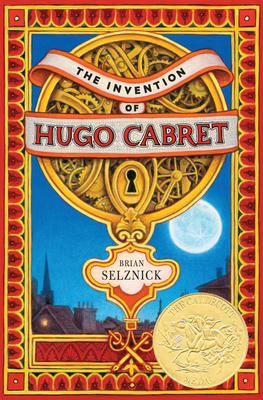 The Invention of Hugo Cabret
Publication Date:
March 1st, 2007
Publisher:
Scholastic Press
Usually Ships in 1 to 5 Days
Description
Don't miss Selznick's other novels in words and pictures, Wonderstruck and The Marvels, which together with The Invention of Hugo Cabret, form an extraordinary thematic trilogy!
2008 Caldecott Medal winnerThe groundbreaking debut novel from bookmaking pioneer, Brian Selznick!Orphan, clock keeper, and thief, Hugo lives in the walls of a busy Paris train station, where his survival depends on secrets and anonymity. But when his world suddenly interlocks--like the gears of the clocks he keeps--with an eccentric, bookish girl and a bitter old man who runs a toy booth in the station, Hugo's undercover life and his most precious secret are put in jeopardy. A cryptic drawing, a treasured notebook, a stolen key, a mechanical man, and a hidden message from Hugo's dead father form the backbone of this intricate, tender, and spellbinding mystery.With 284 pages of original drawings and combining elements of picture book, graphic novel, and film, Brian Selznick breaks open the novel form to create an entirely new reading experience. Here is a stunning cinematic tour de force from a boldly innovative storyteller and artist.
Praise for The Invention of Hugo Cabret
Awards and Praise for The Invention of Hugo Cabret:
2008 Caldecott Medal winner
National Book Award Finalist
#1 New York Times Bestseller
New York Times Best Illustrated Book
Los Angeles Times Favorite Children's Book of the Year
TIME Magazine's 100 Best Children's and Young Adult Books of All Time
"Evokes wonder . . . like a silent film on paper." -- The New York Times
"A fast-paced treat." -- People Magazine
"Distinctive."-- The Wall Street Journal
"Cinematic."-- Parenting Magazine
"Captivating."-- Los Angeles Times Book Review
"If your kid loves the J.K. Rowling series, then [they are] bound to enjoyThe Invention of Hugo Cabret. . ."-- Good Housekeeping
* "A true masterpiece."-- Publishers Weekly, starred review
* "Fade to black and cue the applause!"-- Kirkus, starred review
* "Complete genius."-- Horn Book, starred review
* "Breathtaking . . . shatters conventions."-- School Library Journal, starred review
* "An original and creative integration of art and text."-- The Bulletin of the Center for Children's Books, starred review
"Visually stunning . . . raises the bar." -- San Antonio Express-News
Awards and Praise for The Invention of Hugo Cabret:2008 Caldecott Medal winnerNational Book Award Finalist#1 New York Times BestsellerNew York Times Best Illustrated BookLos Angeles Times Favorite Children's Book of the YearTIME Magazine's 100 Best Children's and Young Adult Books of All Time"Evokes wonder . . . like a silent film on paper." -- The New York Times"A fast-paced treat." -- People Magazine"Distinctive."-- The Wall Street Journal"Cinematic."-- Parenting Magazine"Captivating."-- Los Angeles Times Book Review"If your kid loves the J.K. Rowling series, then [they are] bound to enjoyThe Invention of Hugo Cabret. . ."-- Good Housekeeping* "A true masterpiece."-- Publishers Weekly, starred review* "Fade to black and cue the applause!"-- Kirkus, starred review* "Complete genius."-- Horn Book, starred review* "Breathtaking . . . shatters conventions."-- School Library Journal, starred review * "An original and creative integration of art and text."-- The Bulletin of the Center for Children's Books, starred review"Visually stunning . . . raises the bar." -- San Antonio Express-News