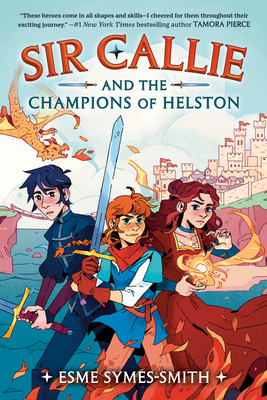 Sir Callie and the Champions of Helston
Publication Date:
August 8th, 2023
Usually Ships in 1 to 5 Days
Staff Reviews
REVIEW BY LOCAL AUTHOR KELLYE CROCKER:
This swashbuckling, sword-clanking adventure featuring a vengeful witch, a scary dragon,
family secrets, court intrigue, looming war, and a despicable, power-hungry villain is loads of
fun. But what makes this series-opener a groundbreaking treasure is its diverse representation,
deep characterization, and powerful themes.
Twelve-year-old nonbinary Callie has long dreamed of becoming a knight, despite their
kingdom's rigid gender rules. When one of Callie's dads, a former knight and the king's
champion, agrees to return to the capital to train the struggling prince, Callie is determined to
join him and prove themself worthy of knight-training.
But in Helston, only boys become knights, and only girls learn magic—specifically, how to keep
theirs quiet and non-threatening. No one dares openly challenge the rules—until Callie arrives.
But the sadistic Lord Chancellor—effectively in charge since the king's mysterious
disappearance years earlier—isn't about to let Callie disrupt the status quo that keeps him in
power. That's fine. Callie is up for the fight and, even when severely punished, proves they already have
what it takes to be a knight: intelligence, integrity, loyalty, skill, courage, and chivalry.
This isn't a story about a girl who wants to do "boy stuff" or be a boy. Callie, a funny, loveable
and inspiring protagonist, doesn't identify as either. They just want to live as themself and serve
their kingdom.
Callie's new Helston friends also are fighting gender norms—albeit secretly—and also are
marvelously nuanced, with dreams, foibles and strengths that don't fit their kingdom's tidy,
labeled boxes. Through these friendships, especially with the chancellor's brilliant daughter,
Callie begins to wonder if the magic inside them might make them more powerful and not weak,
as they'd always assumed. What if the few boys and men who secretly have magic could use it?
Now, more than ever, young readers need and deserve wonderful stories that celebrate all of their
diversity. LGBTQIA+ kiddos will feel seen and loved in this thrilling story of found-family.
Straight kids will find a terrific adventure—full of humor, heart, and hope—that also can help
them better understand people who may be different (or not so different) from them.
People suffer terribly when not allowed to be their full selves, especially when it's dangerous to
do so. Our communities suffer, too, when people aren't allowed to share all of their gifts.
Disclaimer: I only post about books I read and loved.
Checkout Kellye Crocker's Book Page: https://secondstartotherightbooks.com/kellye-crocker
— Local Author: Kellye Crocker
Sir Callieslashes gender norms with the cold bite of a steel blade. Nonbinary Callie dreams of being a knight, but the rigid rules of the kingdom are hard to escape. A captivating page-turner that will have you on the edge of your seat!
November/December 2022 Kids Indie Next List
Description
In a magical medieval world filled with dragons, shape-shifters, and witches, a twelve-year-old nonbinary hopeful knight battles for the heart of their kingdom. A thrilling middle-grade series opener that explores identity and gender amid sword fights and magic, and proves anyone can be a hero.
"These heroes come in all shapes and skills—I cheered for them throughout their exciting journey." —#1 New York Times bestselling author Tamora Pierce
When their ex-hero dad is summoned back to the royal capital of Helston to train a hopeless crown prince, Callie lunges at the opportunity to finally prove themself worthy to the kingdom's "great and powerful."
Except the intolerant great and powerful look at nonbinary Callie and only see girl. But Callie has always known exactly what they want to be, and they're not about to let anything stand in their way. 
Trapped in Helston's rigid hierarchy where girls learn magic and boys train as knights, Callie discovers they aren't alone—there's Elowen, the chancellor's brilliant daughter, whose unparalleled power is being stifled; Edwyn, Elowen's twin brother desperate to win his father's approval; and Willow, the crown prince who was never meant to be king.  
In this start to an epic series packed with action, humor, and heart, Callie and their new friends quickly find themselves embedded in an ancient war—and their only hope to defeat the threats outside the kingdom lies in first defeating the bigotry within.
"Everything you could possibly want from a middle grade fantasy." —The Nerd Daily
Praise for Sir Callie and the Champions of Helston
3 STARRED REVIEWS!
"Everything you could possibly want from a middle grade fantasy....Fierce, sharp-witted and unapologetically queer."
—The Nerd Daily
★ "Tenacious, vulnerable, and gritty, Sir Callie is a hero that belongs on every library shelf. This is an important book that will capture every reader's heart and imagination."
—SLJ, starred review

★ "In this uplifting debut, Symes-Smith skillfully crafts an emotionally rich adventure starring an intersectionally inclusive cast of courageous characters."
—Publishers Weekly, starred review
★ "A can't-miss, one-of-a-kind (for now!) page-turner, bursting with heart...Among the best of the year—and a debut, no less."
—Booklist, starred review
"Fierce, heartfelt and determined....Callie and their friends refuse to give up or stop questioning the discrimination within their society." 
—Kirkus Reviews
"Young readers will find a worthy hero in Callie."
—Bookpage

"Symes-Smith has forged a razor-sharp story of bravery, emotional resilience, deep honor, and adventure!'
— Ash Van Otterloo, author of CATTYWAMPUS
 
"This warm hug of a book is a love letter to classic fantasy novels and a joyous celebration of found families, finding your place, and making your way in the world on your terms (and with your chosen pronouns). It's thoughtful, inclusive, and an absolute joy."
— Jamie Pacton, author of THE LIFE AND (MEDIEVAL) TIMES OF KIT SWEETLY 
"A groundbreaking, magical story about fighting for who you are...Callie is a character every middle grade reader deserves to have on their shelves."
— Nicole Melleby, author of HURRICANE SEASON
 
"A groundbreaking story with engaging, unforgettable characters, whose personal journeys will mean the world to so many young readers."
— A. J. Sass, author of ANA ON THE EDGE
"Sir Callie is the hero I needed while growing up, and I am so grateful this story exists for kids today."
 —H.E Edgmon, Author of THE WITCH KING